News
Nuthampstead Shooting Ground is re-opening on the 17th of June.
This will be great news to all of our customers however it will come as no surprise as there will be new measures in place around the Ground. We hope that all customers can come and enjoy their visit but at the same time feel it is a safe place to be.
Social distancing measures must be adhered to and hand sanitising stations must be used regularly especially when entering the toilets. Further guidance will be offered on arrival to Nuthampstead Shooting Ground. Please make yourself aware of government guidelines before leving home.
Opening hours.
Our new summer opening hours are Wednesday, Thursday, Friday & Saturdays 10am – 4pm and Sundays 10am-1pm. Olympic Trap, Universal Trench and Olympic Skeet will be available. All you have to do is send an email to This email address is being protected from spambots. You need JavaScript enabled to view it. or a Facebook message to let us know you are coming so we can monitor how busy each day will be and facilitate any extra precautions.
We will be monitoring this system and make sure that customers are safe throughout the day without booking hour slots. We will be asking customers to leave once they have finished their shooting activities especially if we feel there are too many people on site. We kindly ask that anyone that feels unwell, has felt unwell or has been around anyone who suspects they have contracted Covid-19 stays away from the shooting ground. You will be asked to leave the site immediately if anyone suspects or is uncomfortable with you showing symptoms of Covid-19.
Whilst we feel we have put in place, as best to our ability preventative measures to make staff and customers safe, it is up to each visitor to be responsible for their own safety and to respect everyone-else attending Nuthampstead Shooting Ground.
Clubhouse
The clubhouse will be closed, please do not attempt to enter.
The reception will be at the window beside the Front door for enquiries and payments.
The toilets can be accessed via the end door, please adhere to all of the hygiene regulations.
Range Etiquette
Ranges will be limited to 3 licensed shooters per layout, with no spectators.
Antibacterial wipes and sanitisers will be positioned on every range. Please sanitise each time you enter and exit the range.
When each round of shooting has finished, customers will be expected to leave promptly without staying for a social.
Sporting and simulated game ranges: we ask that shooters operate the buttons themselves or by a member of staff, and must be wiped down after use with the provided sanitiser.
No lessons or coaching will be taking place for the foreseeable future.
Payment Systems
Trap and skeet ranges will be operating a card system. Please top up with plenty of credit to minimise contact with staff - our special offer still stands at £100 and get £20 free.
We shall be taking credit card payments and cash should only be used as a last resort.
Cartridges will be available to purchase.
Kitchen
Takeaway hot drinks, cold drinks, pre-packaged snacks and ice creams will be available to purchase. A table will be outside the kitchen door to collect your orders. Please do not attempt to enter the kitchen area.
Take-away hot rolls and salad sandwiches will be available beginning of July – please bring a picnic with you until then.
We thank you for your understanding and co-operation in these uncertain times and we look forward to welcoming you back.
Nicky and Ed Barker
UPDATE: 15th May 2020
Following the CPSA announcement dated 13th May 2020 we are pleased to hear that the shooting industry can open with caution. We thank our governing body for liasing with Government to get clarity on the matter. However this still doesn't mean Nuthampstead Shooting Ground will be reopening anytime soon. Even though all plans are in place to try and open cautiously and safely we feel that it is still too soon for our customers and business to start. There will be a number of disappointed readers who we can only hope understand our concerns. Our view is that we want to open when the time is right and customers have a better piece of mind and enjoy their shooting. We will be making sure that we have the best strategy in place to make your visit as safe and sensible as possible.
Some future measures will include;
Limited participants at allocated times (no more than 2 people must meet from separate households)
Small time allocations
Very limited range space and facilities (only automated layouts and toilets)
Strict cleaning regime on all public areas
Hazard tape and signage
Social distancing rules apply (please make yourself aware of these before visiting)
Do not visit if you or a member of your household has any symptoms.
UPDATE: 2nd May 2020
Still no further signs of reopening. Please follow government guidelines and stay safe. The shooting ground will hopefully re-open by June.
UPDATE: 10th April 2020
With the ongoing pandemic of Covid 19, Nuthampstead Shooting Ground will remain closed until further notice. Our website calendar shows us closed until 6th May 2020 but this may change again nearer to that date. We hope all our customers and their families are well and we look forward to seeing you as soon as safely possible.
UPDATE: 21st March 2020
Nuthampstead Shooting Ground is now temporarily closed until further notice. To hope that our customers can understand the situation we are in and keep away from the spread of the virus. We hope that this response will make a small contribution to the control of the situation that the country faces.
UPDATE: 20th March 2020
In light of this afternoon's announcement bu the UK government we have made the decision to open the ranges only during opening times. This will involve customers still being able to shoot but only being able to access the toilet facilities and not the rest of the clubhouse.
Takeaway food an drinks will be supplied through a "hatch" system as well as any cartridges and credit for clays.
We hope that this system will survice for as long as we are allowed. We apologise to all our customers for this inconvienience but we are taking this outbreak very seriously and want to keep all customers and families safe.
18th March 2020
Due to developments in Covid-19, Nuthampstead Shooting Ground will be putting measures in place to ensure the safety of all staff, customers and visitors.
We are resuming with our usual opening hours - Wednesdays and Saturdays 10am-4pm.
We regret to inform you that any major competitions and Sundays are having to be cancelled until after 12th April 2020. For further information visit British Shooting or BICTSF website. Additional information for other events are on the CPSA website.
Please be aware that in a very uncertain time our position is most likely to change so please use this website and our Facebook page for updates.
We politely request that the shooting community respect the safety of the vunerable categories and use hand wash and sanitiser at the Shooting Ground or bring your own provisions. If you are feeling unwell or been in contact with people of symptoms then follow government guidelines and not visit us. Unfortunately we cannot guarantee everyone's safety from this virus and every individual should take responsibility to stop the spread.
We hope that customers can understand the situation our business is in and we will endevour to do our best to continue operations.
We wish everyone and their families health and well-being in these strange and difficult times.
Ed and Nicola Barker
Nuthampstead Shooting Ground is please to announce an excellent develepment in the equipment we are using.
In the summer of 2018 the decision was made to use Promatic Ltd as the machinery supplier. The excellent service and installation happened within 16 days of order which allowed major competitions to use the new machines.
We thank Promatic for their ongoing support and supplying reliable clays and machines.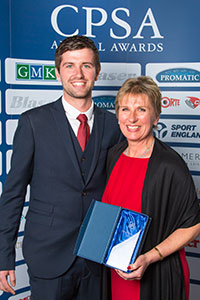 Nicky and Ed collected an Award on behalf of the late Martin Barker for the CPSA Life time Contribution in 2017.